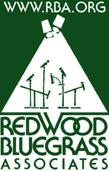 Redwood Bluegrass Associates will present the Kathy Kallick Band in a Saturday, November 1, 2014 concert. The program will be held at the First Presbyterian Church Of Mountain View (Cuesta at Mirramonte).
NCBS welcomes all RBA concerts.
The concert will begin at 7:30pm, and will be preceded by a 5:00pm open jam and by a slow jam hosted by Richard Brandenburg.
New: This season's RBA concerts will be held at various venues in Mountain View, Los Altos, & Palo Alto.