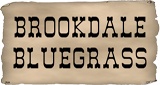 Since 1998, the Brookdale Bluegrass Festival has been held each March and December in the San Lorenzo Valley. The festivals are presented by Brookdale Bluegrass and are welcomed by the Northern California Bluegrass Society.
However, there will be no Winter Brookdale Bluegrass Festival this year. The next Brookdale gathering will be the Spring 2018 Brookdale Bluegrass Festival to be held March 9-11 on the Felton/Ben Lomond border at the Mt. Cross Camp. This was the popular venue for last year's spring event.
More details will be announced soon.