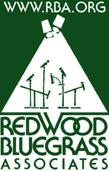 The Redwood Bluegrass Associates 2015-2016 Concert Season will be held monthly except in December. All shows are welcomed by the Northern California Bluegrass Society. Beginning with this season, the concerts (except the November show) will be held at the Mountain View Masonic Lodge.
2015
October 17 — The Piedmont Melody Makers (Alice Gerrard, Chris Brashear, Jim Watson & Cliff Hale)
November 14 — California Banjo Extravaganza (Riley Baugus, Ryan Cavanaugh, & Bill Evans, plus John Reischman, Sharon Gilchrist, Chad Manning, & Jim Nunally). This concert will be held at the Etz Chayim Hall in Palo Alto.
2016
January 23 — Laurie Lewis & Kathy Kallick Sing the Songs of Vern & Ray
February 20 – Danny Paisley & Southern Grass
March 19 — Mike Compton & Joe Newberry
April 16 – Jayme Stone's Lomax Project
May 7 – The Tuttles with A. J. Lee